Self Feed Multi Crop Power Thresher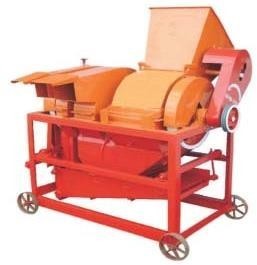 Self Feed Multi Crop Power Thresher
Product Description
SELF FEED MULTI CROP POWER THRESHERÂ
Self Feed Multi Crop Power Thresher comes with the following features:
* Spike Tooth Type.
* Feeding Hopper with self-feed attachment. Stud bitter on bars and 18" dia Threshing Cylinder which is open type.
* RPM 750
* Oscillating screen oscillates with the help of eccentric system. Interchangeable bottom concave for different crop type.
* Fixed top concave.
* Blower for winnowing purpose.
* Main shaft fixed aspirator blower is used to clean large impurities.
* Bottom fixed Auxiliary blower is used to clean weeds and weak seeds. Double Heavy Fly Wheel.
* Operates on 10 HP Electric motor or on 10 HP Diesel Engine.
* V Belt Drive.
* Safety Guard is present
* Arrangement provided for carting attachment
* Low maintenance and less labour requirement
* Simple in operation
Output Capacity per Hour : (1 Bag contains 100 kg)
* Wheat : 4 to 5 Bag
* Jowar / Sorghum : 10 to 12 Bags
* Bajra / Pearl Millet : 10 to 12 Bags
* Soyabean : 5 to 6 Bags
* Tur / Pigeon Pea : 5 to 6 Bags
* Chane / Chickpea : 5 to 6 Bags
* Sunflower : 12 to 14 Bags
* Maize : 4 to 5 Bags
Contact Us
28, 3rd Floor, Sucheta Niwas, 285, Sahid Bhagat Singh Road, Fort, Mumbai, Maharashtra, 400001, India
Phone :09920154283